Hand-made, Personalized Leather Drumstick Bags
Great Drummers use Great Leather Drumstick Bags™! Featured here are some of Great Leather's™ drummers with their personalized stickbags. Left to right are Johnny Rabb - World's Fastest Drummer record holder. Sean Deel - Nashville studio session player, live performance musician, and owner of the hot new Grind It Out clothing brand. Rich Redmond - drummer for Jason Aldean (2018 ACM Entertainer of the Year Award winner), Nashville session player, producer of the Crash Course for Success (sponsored by SABIAN), and Modern Drummer Magazine contributor. Jason Schmidt - drummer for Brian Davis, Lindsay Ell, and blogger for Modern Drummer Magazine.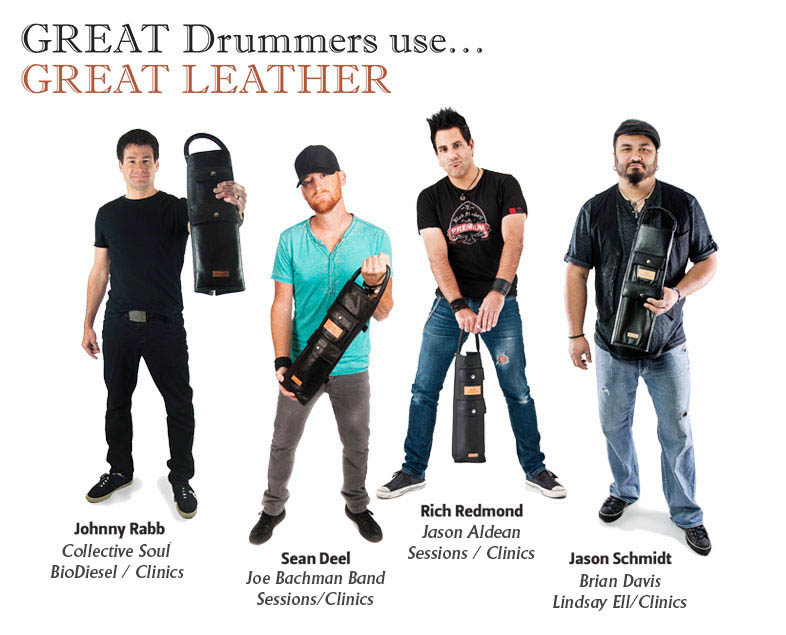 The one and only
Great Leather Drumstick Bag™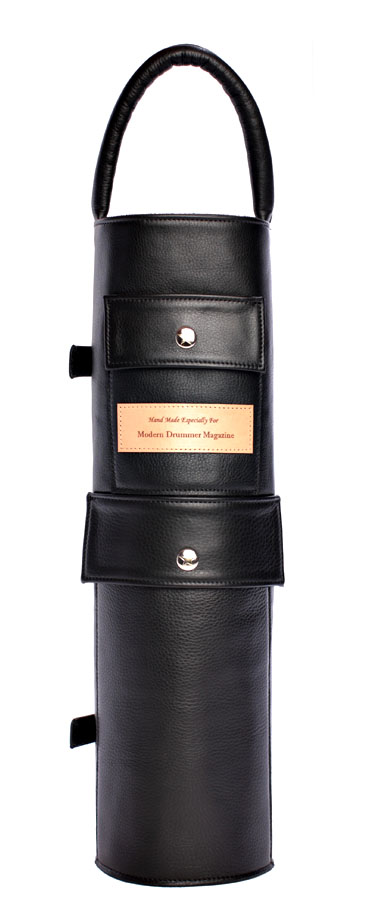 The Great Leather Drumstick Bag™ comes in black, brown, wine, and forest green! This customized stickbag is hand cut and sewn in the USA out of full topgrain aniline leather for an elegant feel and durable wear. It comes personalized with a laser-cut leather label bearing the drummers name. One of Great Leather's musician accessories, this particular percussion accessory was designed by a drummer for the professional drummer. Great Leather™ builds Leathergoods to Love and Last™!
Dimensions:
Lightweight - 2 pounds
18" x 14: (not including the handle)
Easily holds 12pr basic drumsticks
World's finest full grain, vat dyed, German and Austrian aniline leather -
These choice hides give Great Leather Drumstick Bags their exclusive luxurious feel, classy look, and long life
3M interfacing material for strength and support - quilted between the exterior leather and the full leather interior
Industrial strength, durable velcro straps - NO ZIPPERS! Fast & easy Velcro• straps adjust for less or more drumsticks
Leather wrapped cotton rope handle for a comfortable carrying experience
Large Interior pocket divided into 3 sections, easily holds 12 pair of basic drumsticks
1 4.5" x 4.5" exterior pocket with snapping flap for drum key, plus...
1 9.5" x 6.5" exterior pocket with snapping flap for your wallet or larger items
Strong S-hooks for quickly and easily attaching to your bag to your drum - NO TYING!
Additional set of S-hooks inside for conveniently hanging your brushes open
Interior flap for protecting and securing your sticks when your bag is cinched closed
Heavy quality bonded nylon thread with reinforced stitching at all stress points
A personalized leather label bearing the name of it's owner
Hand Made Especially for ______________
Hand cut and sewn, for you, in the USA by the women at Great Leather
Leather Drum Stick Bag Videos
The following videos are unsolicited reviews of the Great Leather Drum Stick Bag. Thanks to Emile de Leon of Temple Sounds—he loved it, and think you will, too!
New tom protectors from Great Leather™!
These tie to that first rack tom to help prevent scratches and chips caused by the snare drum hitting it during a performance or set up
Approximately 6 x 6" Black in stock. Call for colors or a different size.
Can be cut out of the same leather as your Great Leather Drumstick Bag, to match.
Special applique's, patches can be put on for a small charge.